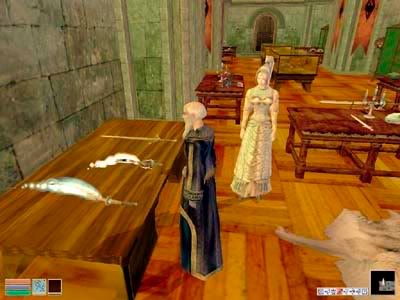 We got up a little late the next morning, and prepared for our trip to Ald'Ruhn. Before leaving, I needed at least one Staff of Office, so we headed to my display room in the Armory.
While there, I showed her the two blades, Hopsfire and Trueflame.
"You keep them together like this?" she asked.
"Yes, for sentimental reasons." I replied. "They were together once over two thousand years ago. They should remain that way now as well, even though one of their owners turned out to be not quite so nice to the other."
I decided to bring along my Wizards Staff, and we headed out to the main Armory room.