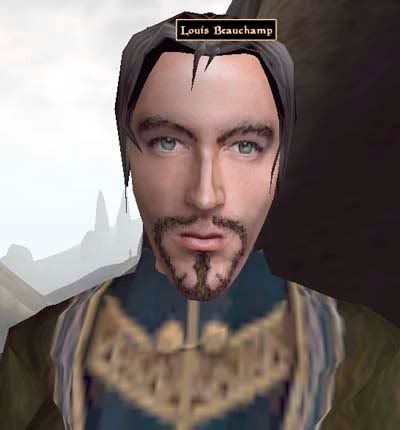 At this point, even Laurenna was interested. "An airship?" she asked. "What in the world???"
Louis puffed out his chest with pride. "Er, yes, I built an airship, you see." he continued. "Quite a beautiful craft, if I may be so bold. Some scavenged Dwemer parts, a few, uh, long-lasting levitation spells. Very clever, a capital idea, I know! Even hired a gang of...well, a crew I guess you'd call them. They were to fly far to the north. Away from all this dust, all the way to Solstheim! I paid them, and rather well, too. They were to locate Hrothmund's Barrow, and find a certain, uh, item."
"What is Hrothmund's Barrow?" I asked.
"It's a grave, er, I guess you'd call it a crypt." he said, nodding to Laurenna, who nodded back. Nords referred to their tombs as a barrow, and being a Nord herself, she knew exactly what he was talking about.
"Anyway," he continued, "this barrow is said to lie at the eye of the wolf."
He noted the confused look on both of our faces, and decided he'd better explain.
"You see, there's a formation, rock, ice, shaped like a wolf...the wolf that killed Hrothmund! He's said to be entombed at the wolf's eye. The formation is only visible from the sky, or, uh, in this case, from an airship. That's why I built it. You know, build the airship, hire the crew, they find the barrow and recover the amulet, bring it back to me. Perfect plan, I thought......"
"Amulet?" I asked. "What amulet would this be that is so important....."
"Oh, a thing of legend." he interrupted. "According to stories...legends and such...Hrothmund was quite the...well...he had plenty of lady friends! He was ugly, too...ugly as a troll! But he had a magic trinket...he wore it. The Amulet of Infectious Charm, it was called. By all records, he was buried with it. That's why I built the airship...hired the crew. I just...I must have that amulet, Eldorf Dragonmeal. But there's been no word. I worry...I fear the crew has failed me."
He turned and looked to the north west, hoping to see his precious airship, but it was yet another cliffracer.
Laurenna chimed in, "What makes you think they have failed you?" she asked. "Is it possible they are simply still looking for it?"
"Oh, I don't know." he replied sadly. "Did they fly off course? Maybe....maybe they found the amulet, and flew away! To meet women! No fair maiden could resist a man with this amulet...in an airship, no less!"
He turned to me. "Say, Eldorf Dragonmeal...I don't suppose you're...well...for hire? I would pay you greatly to find my airship. I'd need proof of what happened to it, of course! Evidence, as it were, just to be sure. Oh, and of course, to bring me the amulet! I need that amulet."
I look at Laurenna. She could smell an adventure in the air, and there was a big grin on her face. That was all the answer I needed. I agreed to help him find his missing airship, crew, and this odd amulet that he seemed to need so badly. I could easily guess why he needed it.
"Oh, well, I guess I understand" he started, "....wait...did you say you would help me? Oh, that's wonderful. As I said, the airship is...er...was...headed north to Solstheim. The Amulet of Infectious Charm is well, in that Barrow I told you about. The eye of the beast...I mean, wolf. But listen: when you arrive there, to enter the Barrow, you must say "Ondjag". Answer wrong, and the barrow will be sealed forever!"
He was like a kid told he was receiving a million gold pieces.
"I must tell you, though, Solstheim...It's a terrible place, I've heard. There's a boat from Khuul that can take you there."
I told him we were familiar with the transportation situation there, living at Solstheim Castle and all.