He nodded. "To be sure. The men have been restless, complaining more than usual. They have been lackadaisical in the performance of their duties. I sense a great unease among them, and morale has been low."
"I noticed that when we first spoke to any of the soldiers." said Laurenna. "Is morale really that bad around here?"
"Yes, it is." he replied. "It is very low. This is not normal." The captain continued going through papers on his desk, trying to work and speak at the same time. "My instinct tells me that there is one among my troops who is fanning the fires of this discontent, and I wish to know who it is. They will never let me know who the culprit is...as their commanding officer, I must regretfully keep some distance between these fine soldiers and myself. They may be willing to speak with either of you,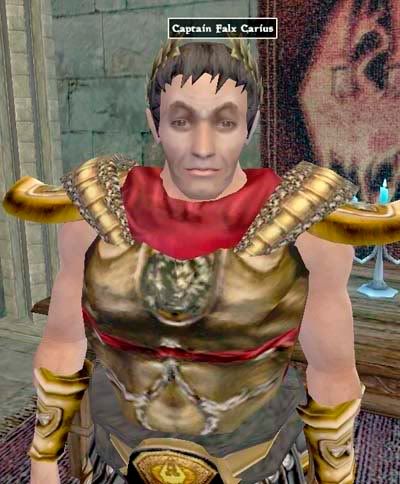 though."
"Well, it's not the mission we came here to complete," I said, "but we'd be willing to help."
"I appreciate your assistance." he replied. "See if you can't gain their trust. If you learn anything, report to me."
"By the way," he added, "are you heading north into the island?"
"We had intended to." I replied.
"Well, watch yourself at the village of Thirsk." he said. "Nothing but a bunch of drunken barbarians, I tell you."
"Any services around here?" asked Laurenna.
"Well, if you're looking for some new armor or weapons," he replied, "check with Zeno Faustus in the Armory. He can get most of what you need. If you're sick, head to the Imperial Cult Shrine. There's not much more here, I'm afraid, no inn, so unless you brought a camping outfit, you'll be sleeping under the stars."
"What kind of creatures can we expect to find around here?" I asked.
"Oh, there are rumors of werewolves, but I don't believe they exist." he said. "I mean, I know they did exist at one point, but I've been told that they were hunted to extinction. Of course, there are wolves, and they do attack in packs, you know."
He grinned, remembering something funny, rare in this terrible place. "I knew someone who tried to tame a wolf once." he continued. "He used to raise guars so he thought he could use the same techniques. You know what? It almost worked...well, no actually, it didn't work at all."
"I see." I replied. "Well, we won't be trying to tame any of those creatures, will we?" I said, looking at Laurenna.
"Good idea." he replied. "The idiot owed me money, too."
"One other odd things around here." he added. "Spriggans: I've heard talk of the walking trees. I've not met any myself, but rumors abound that they die three deaths."
"Good advice." I said, thanking him for his time.