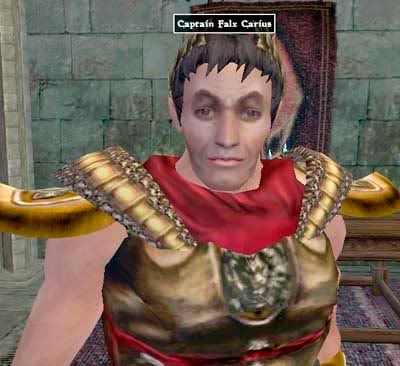 Carious turned to his desk, retrieved a few items, and brought them back to us.
"Thank you for your help, Eldorf the Wise. Take these. There are diseases on this island that we have never encountered before, and the weapon may serve you well."
It was a silver spark sword, enchanted with a shock spell.
"Now, on to more fort business." he continued. "As I've told you, not all of my soldiers here are trustworthy. Many were sent to this Fort in lieu of Ebonheart's dungeons. Now, I fear that a criminal element has shown itself in the Fort. I believe that there are weapons being smuggled out of there and sold on Vvardenfell."
"What makes you think they're being smuggled from the fort?" I asked.
"I've noticed that the store of weapons in the armory has been decreasing," he replied, "and I know there is no official reason for it. My only guess is that someone is smuggling them off Solstheim to be sold on Vvardenfell. I want you to uncover this smuggling ring, and I will even provide you with a bit of help to do so. After all, our supplies are limited, and without them, I fear the soldiers will grow even more restless. And what is a fort without its weapons?"
"I see." I replied. "What about this help you mentioned earlier."
Captain Carius walked over to his desk, and found two papers with information concerning two soldiers on them.
"I would like you to work with one of my soldiers on this case." he said. "There are two available to you, and they are two of the best here at Fort Frostmoth: Sacnus Lusius and Gaca Artoria. You'll find Lusius in the General Quarters, and Artoria in the General Quarters Upper Level. Speak with them and decide which will be your companion. When you have unearthed the smuggling ring, report to me. I leave how you deal with the smugglers to your discretion.
"Is there any difference between the two of them?" I asked.
"There certainly is." he replied. "Lusius knows more about the daily activities here at the Fort than any other soldier in my command. While not our strongest fighter, he more than makes up for it with his savvy. He may be best suited to ferret out the smuggling ring."
He shuffled the papers, reading the information on it quickly, then continued, "Gaca Artora. Ah, yes, she is one of my most loyal soldiers, and one of my most powerful. I have never seen her bested in combat, and her skill with weapons is legendary here at the fort. Should you encounter any resistance with these smugglers, Artoria would be a valuable ally to have. Again, I leave it to you to chose which one you'd rather work with."