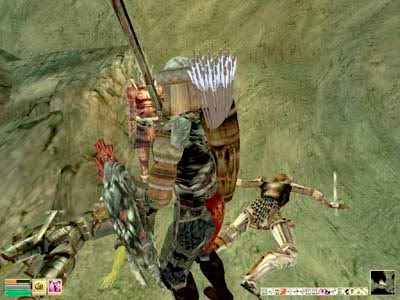 Just up ahead of the first attack, we came upon no less than three Ork guards, blades drawn, looking for blood.
Sancus, unfortunately, was one of the first to fall. The Ork that killed him now turned to help his fellow Ork attack Laurenna. I couldn't help her - I was busy fending off the third Ork, and he was a handful. I would have used the Ring of Leaches on him, but the blast from the ring would have sucked the life out of Laurenna as well.
I managed to kill the Ork, then ran over to where Laurenna was doing her own battle. She had just finished off killing the second of the two Orks that had attacked her.
"Are you injured?" I asked. "Do you need to heal yourself?" I offered her a health potion of mine.
"No, not a scratch on me." she replied. "You know, this armor is a bit heavy, but I like it." She smiled, and I gave her a hug. I used a restoration spell and healed the two wounds I had received in the battle.