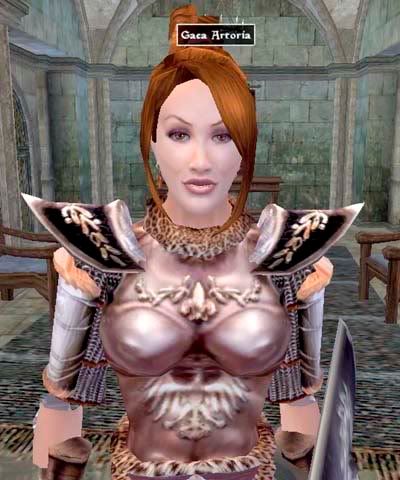 Laurenna asked, "Wolf creatures? Are you sure they were wolves, and not men dressed up in wolf masks?"
Gaca shook her head. "My guess would have been werewolves." she replied. "I've seen 'em before, but this was different. I've never known the things to travel in such large numbers, and there were a lot of these things. I've also never heard of werewolves on this island. Who knows, though. I've heard rumors that the Nords up north can control the beasts through. Some say they can even turn into them. Whatever they were, I don't want to see them again."
"What Nord village would this be? Does it have a name?" I asked.
"They're a bunch of savages that live on the northeast tip of the island" she replied. "The Skaal, they call themselves." She pointed to it on a map of the island hanging on the wall. "A bunch of animal spirit-worshipping freaks...wolves especially. What does that tell you? I'm sure they know what happened to the Captain. Now, you go find out. They're not likely to trust you, so take this."
She handed me a skull of a Skaal Warrior, apparently some artifact that would allow me to gain their trust..
"They'll like it." she continued. "You should stay with them until you find out what's happened. Get in good with them, earn their trust.