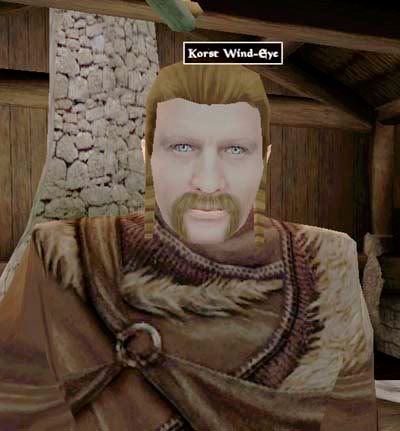 "Heart-Fang wishes for you to do this, does he?" he said. "Well, then, I will assist you."
He went over to a small table and looked through a number of old scrolls there. Once he found the one he was looking for, he returned to face us.
"There is a ritual that must be completed." he explained. "On Solstheim, you will find six Standing Stones, each representing one of the six gifts of the All-Maker. At each of these Stones, a ritual must be completed. Once the Ritual of the Gifts is completed, the Oneness should be restored."
"What exactly are these rituals?" asked Laurenna.
Wind-Eye looked at her and smiled, seeing a fellow Nord at my side.
"It would be too much for any not of the Skaal to remember." he replied. "Here, take this." It was a map of the location for each of the six Stones that we needed to find. "This will explain the rituals and guide you on your way." he added, handing me an old book. "If you are to remain with the Skaal, you should understand our beliefs."
The book held the tale of a young lad that had to perform each of these six rituals. I decided I would read it before setting forth on this adventure.
"What can you tell us about some of the creatures here?" I asked, deciding to pick his brains on the local area.
"Ah, bears." he replied. "they are but one of the sacred creatures the All-Maker has blessed us with. They embody the warrior's strength, and some of the Skaal can even summon them to fight by their sides."
"What about Grahl?" asked Laurenna. "One of the soldiers at the fort mentioned such a thing."
"I have heard them called that, the Grahl." he replied. "We do not know what they really are. Perhaps an evil spirit, perhaps a great beast. Whatever they are, they are dangerous. Their claws and tusks rend armor and tear flesh. They will attack alone or in packs. Take care when they are near."
"I saw some odd creatures on Lake Fjalding on our way up here." I said. "They did not attack us, and seemed rather peaceful."
"Ah, horkers." he said. "Another of the All-Maker's wondrous creations. These creatures provide a great deal for our people. They are strong swimmers, and fierce fighters, on land and in the sea."
"One Nord just north of the fort mentioned something about Spriggans." I said. "Could you tell me about them, and why it is said that they die 3 deaths?"
"Oh, yes, the tree spirits of this island." he said. "When the All-Maker breathed life into the creatures of the land, his Breath blew through the trees as well. Some of those trees kept a part of this life, and these are the Spriggans you see today. The life within them is so strong, that they must be killed more than once."
"I have heard wolves howling in the distance since coming to the island." said Laurenna. "I assume there are packs of them here."
"Yes," he replied, "they are one of the most blessed of the All-Maker's creations. They are fast and agile, and they are careful and clever hunters. You must be cautious, as they tend to hunt in packs."
Korst told us that there was a smith in the village that could repair armor if needed, and one of the villagers here was able to purchase items from us, as well as sell certain supplies, but not much more than that.
We thanked him for his assistance and headed back outside.