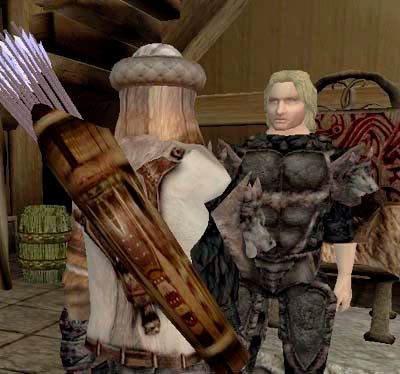 This chieftain was a pretty fun guy, compared to the last couple of chieftains I had met.
"Hail, good Eldorf Dragonmeal, and your lovely Nord wife!" he shouted, apparently knowing who I was. "Skjoldr Wolf-Runner is my name. I am the chieftain of Thirsk, and I welcome you to our home. You'll not find a better mead hall anywhere, not even in Skyrim. For one hundred years, Thirsk has withstood all manner of attack, from the snow and hail to those infernal Ricklings. But the mead hall still stands, and its hospitality is unmatched. Please, stay and relax. Enjoy our fine drink, and seek shelter from the cold."
He reached over to a table, bringing two more jugs of mead, shoving them into our hands. "Here, my friend - taste the nectar of Shor!"
Well, he IS chieftain, after all. Laurenna couldn't wait, she drained it as fast as any Nord warrior could, while I went a bit slower, savoring the flavor. The soldiers of the fort didn't like it, but I couldn't tell why - it was pretty good, actually.
Skjoldr went on to tell us that the hall was build over five hundred years ago by a group of Nords who left the Skaal village, and that Hrothmund the Red was their first Chieftain. He also mentioned that they had a pretty good smith in the village that could craft custom pieces of armor for us, if necessary.
While he was singing some old Nord warrior song with Laurenna, I checked out the rooms upstairs, where I found a Breton by the name of Bereditte Jastal. He had a couple of books that had just been finished. They were called Thirsk, a History, and Sovngarde, a Reexamination. I decided to buy them for some late night reading later tonight. I asked him what Sovngarde was, and this was what he told me: The Nords believe that the god Shor constructed a magnificent fortress where valiant Nord warriors may live forever, feasting, fighting...basically doing everything Nords like to do. The trick is finding the way in. According to legend, the entrance to Sovngarde is hidden, and only those who take up the search may ever find the way in.
But he added that according to his research, the way to Sovngarde isn't quite what they thought. I guess it'll make good reading later.