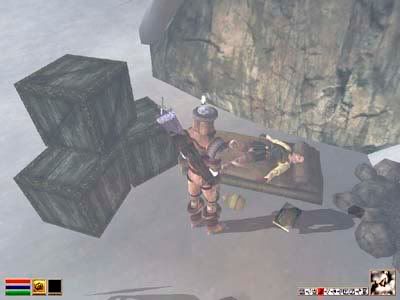 Quickly, we raced to the side of this crewmember, only to find that he, too, had died from exposure to the freezing cold her. From the look of his clothing, he seemed to have a rank. There was a book nearby. In checking it out, I found out that this was the body of the captain of the vessel.
It appears that the crew had problems right after taking off from Ald'Ruhn, with pieces of the ship falling off here and there along the way. One of their crew even went crazy, attempting to crash the ship into the sea. Unfortunately, the captain had to kill him to prevent that from happening. Another entry in the journal shows that they actually located Hrothmund's Bane, the location of this amulet that Beauchamp seemed to need so badly. The next entry said that when trying to set the ship down, they were hit by a terrible blizzard, causing them to eventually crash on this hillside, the ship coming apart at the seams.
Two more entries indicated most of his crew died in the crash, and those that didn't froze to death shortly after, the final entry indicating he could see a wolf coming towards him.