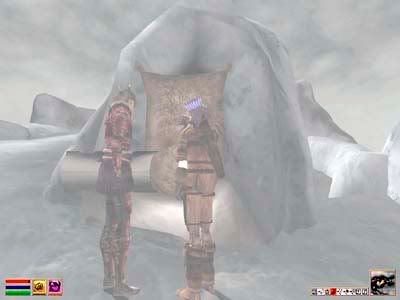 Even though we knew were the place was now, it was still easy to get lost in the blizzard. The wind was blowing so hard it was as if Solstheim itself wanted us to turn back.
We finally found the entrance to the barrow. As we approached the flap covering the doorway a loud voice called out.
"Some they call me Hrothmud's Bane,
with midnight teeth and moonlight mane.
I am the wolf one soul may tame,
by uttering my given name.
But speak the truth, for those who lie,
gain not the wealth beyond my eye!
Answer false and evermore,
closed shut will be my icy door.
What is my name?"
Laurenna looked at me, realizing that Louis had told us the answer to this riddle, but she obviously couldn't remember what the name was that we were supposed to say. I looked back at her, and smiled.
"ONDJAGE!" I shouted.
After a few seconds, the loud voice spoke once again.
"You spoke the truth and won the game,
for Ondjage is my given name. You have
gained entrance to Hrothmund's Barrow."