"I have a theft that I need you to investigate." he said.
"What's the story?" I replied.
"Engar Ice-Mane has been accused of theft." Tharsten replied. "His accuser, Rigmor Halfhand, claims that Ice-Mane stole furs from his house."
"Have they been found?" I asked.
"Yes, indeed. he replied. "They were found in Ice-Mane's residence."
"Sounds like a pretty open-and-shut case to me." I replied. "How can I be of assistance?"
"The Skaal do not take such things lightly." he said. "We have little, and each is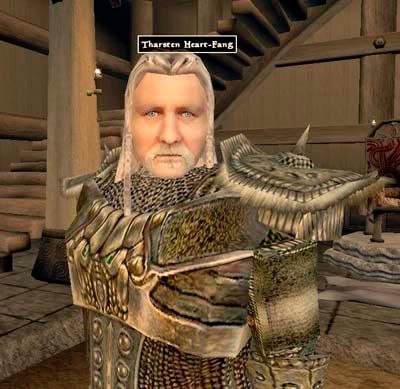 given according to his need. This offense is punishable by exile or sacrifice to the wolves. Ice-main will surely choose the wolves."
"I see." I said. "What do you need for me to do?"
"I want you to speak with the Skaal." he replied. "Find out what you can. Then report your findings to me, so the guilty may be punished appropriately."
"Those wolves sound serious." I said. "What can you tell me about the players here?"
"Engar Ice-Mane is a fine warrior," said Tharsten, "and has held a place of honor among the Skaal for many years. Now, Rigmor Halfhand, well, he's not much of a warrior, but he is a smart man, and a valuable member of the Skaal community."
"Ok, chief." I replied. "I'll see what I can find out for you."