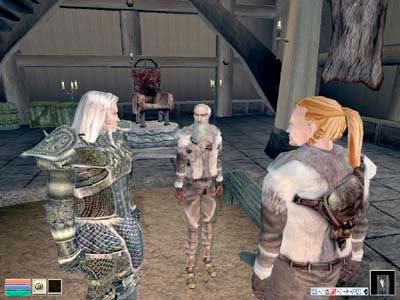 "I believe he should be exiled, and not sacrificed to the wolves." I replied. "Dead, his situation would be ended right there. But what will he learn? Nothing. This way, he will be able to study the folly of his ways."
"Then he shall be exiled." replied Heart-Fang. Turning to Halfhand, he continued, "Halfhand, you may never again return to the Skaal village, and you are dead to the Skaal forever."
Turning back to me, Heart-Fang continued, "It is a cruel choice you have made, Eldorf Dragonmeal, but perhaps it is wise."
Reaching into a chest, he brought out a helmet for me. "Here, accept this token, The Helm of the Wolf's Heart." he said. "It is unlikely, but perhaps you, too, can be more like the wolves we revere."
"Come back to me tomorrow morning." he said. "I'll have something else for you then."