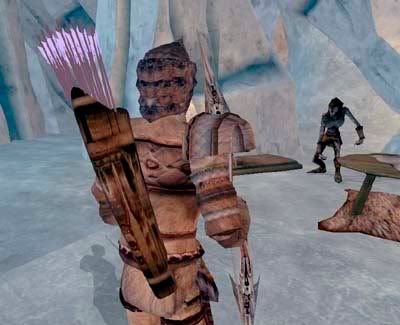 I entered a large cavern, and suddenly heard the shuffling of heavy feet just to my right. It was a draugr! I readied a sun arrow in my bow, but the creature didn't turn to attack. Instead, it was working on something cooking over a fire. There was also a bedroll, as well as a table and chair. Not something you associate with a draugr. I relaxed the arrow, and the draugr turned to face me. This was the only draugr I had ever seen that cooked it's food.
"You are brave or foolish to enter this place, Breton." the draugr hissed, "But I sense a bit of wisdom in you...perhaps. I might kill you where you stand, were you to try and keep me from my task, but there are more dangerous things in these caves than this poor soul."
Well, that's odd for a draugr to say. "Have I the pleasure of addressing Lord Aesliip?" I asked, trying to be diplomatic.