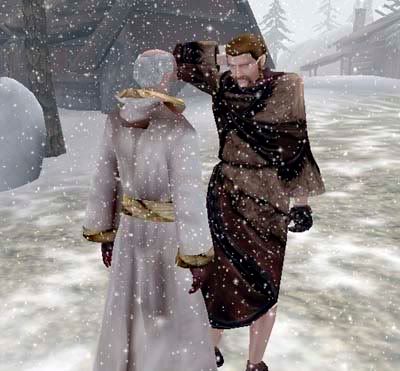 "I've only just arrived, and to this horror." he said as we approached. "It is good you were here to protect these people."
"Yes." I replied. "There are a number of wounded, but if you need them, I have several healing potions you can use."
"I appreciate that." he replied. "You have done well by the Skaal. My worst fears have been realized, Eldorf. These creatures are werewolves, as you surely know. This is not a good omen for our village."
He made a gesture with his hands, sparks flying from his fingers for a moment, then vanishing from sight. "I have more troubling news." he continued. "I have used my magic to detect any of the infection these beasts leave in their wake. You, my friend, have been infected."
"Eldorf." said Laurenna, "The wound on your leg!"
That had to be it, though I certainly didn't feel 'odd'. "Oh, the wound on my leg." I said. "Yes, a simple healing spell should take care of it, right?"
Korst shook his head. "The infection seems innocent enough. Some weakness, perhaps. Sometimes the effects are hardly noticeable. However, in three days' time, the victim will become a werewolf himself. It is a fate I would not wish upon my greatest foe. During these three days, though,a simple Cure Disease spell or potion can stop the infection. I beg you to do this. Until then, I fear I cannot allow you to be a part of our community, perhaps infecting others. When you have been cured, I hope you will return to us again."
"I have a few of those potions in our tent." I said. "I'll take care of the infection. What about the lake?"
"The flame still burns, though Aesliip is dead." Korst replied. "I am not surprised. There is more at work here than just the magic of one mage. There are greater things on the winds."
Laurenna and I headed to our tent, retrieved one of the cure disease potions I had stored there, and used it. Within seconds, the burning sensation in my leg stopped. A healing spell repaired the wound itself. We then returned to Korst with the good news.