"Tell me of these signs." I asked.
"There have been many, though I've been reluctant to speak of them." he replied. "The coming of the werewolves, the fire on the lake, and now I've been told that the northern shores are the scene of a massacre. Many horkers are dead. The shores are littered with corpses, and the death of the horkers has not been explained. All these things are suggested in the Bloodmoon Prophecy. We must find out what has happened. Perhaps this is a sign of prophecy, perhaps not. I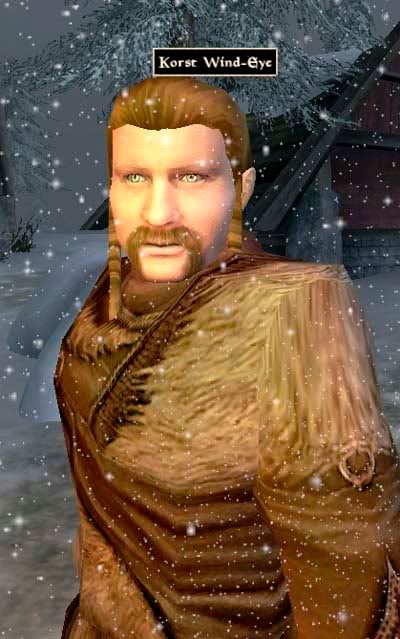 prefer to think that it is the work of mortals."
"Can you be certain of this?" I asked. "It does not look like the work of any magick that I know of."
"Well," he replied, "I would have you travel to Castle Karstaag, and confirm my suspicions."
"Hmmm, this castle sounds remote." I said. "Where would I find it?"
"It is a castle made of ice on the northwest part of Solstheim." he explained. "There lives the frost giant Karstaag. The Skaal have lived in peace with the monster for many years, but we have heard nothing from the giant for some time. This slaughter could be the workings of the Ricklings who serve him. Go there and find out what you can. You will not be allowed in the main entrance, but we have recently discovered an entrance in the waters north of the castle. Good luck to you, Bloodskaal."
"What about those Ricklings?" I asked. "Any advice on dealing with them?"
"Vile little beasts," he replied, "but not as mindless as some may think. These creatures are intelligent. Some are capable of speech, and all are capable of great cunning."
"Thank you." I replied. "I'll keep that in mind."