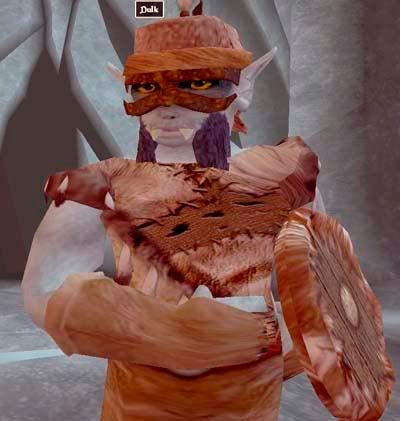 "This was not our doing!" he replied, trying to sound very innocent. "Not even Krish could have done this! He was too busy here. I was too busy here!"
"So, where is Karstaag, your master?" I demanded.
"The master is gone, gone with the wolves!" came the reply.
"What wolves do you speak of?" asked Laurenna, pulling out her broadsword. "Speak quickly or I'll have your tongue for my dinner tonight!"
I didn't want to ask her if she would really have that for dinner, but it had the right effect. Poor Dulk was beside himself. He was between a wizard and a very angry Nord. "Big wolves! Evil wolves!" he stammered, "Wolves that walk like men! Took the master two days ago! No time for the fat horkers, and Dulk did none of this!"
"So, Karstaag is not in his castle then?" I asked, just to be sure.
"Yes, yes, the master is gone!" Dulk replied. "He must return soon. The wolves came and took him away. Big wolves, evil wolves! Wolves that walk like men! Left Dulk all alone. But the master will be back soon. The master must come back soon."