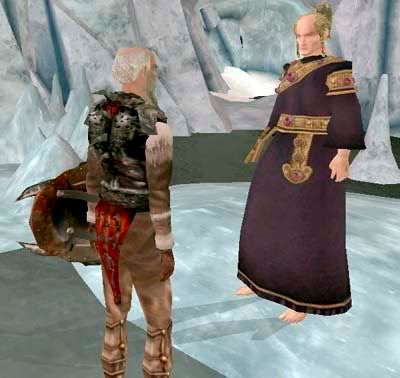 I would have thought he would have been happy to be rescued. How wrong I was!
"Intruder!" he shouted, as he saw me approach. "Who dares venture so deeply into the halls of Rimhull? The Mantle of Woe is mine, do you hear!!??? I have claimed the robe and its power!"
"I'm sorry." I replied. "I'm Eldorf Dragonmeal, and I've been searching for you. What is this Mantle of Woe that you speak of?"
He stood before me, proudly displaying his robe. "Behold the vestments I now wear!" he replied. "When I read the old stories I had to learn the truth. Could it be that an item of such grand magicka lie so close at hand, in the caves beneath my very village? I could contain my eagerness no longer, and jumped into the well. I braved Rimhull's dangers, and at last my efforts were rewarded. Soon the dead shall walk, and Tymvaul the Dark shall lead them!"
Oh, good! Another one wanting to rule the land, empire, and possibly the world. I decided I'd better try to defuse this wannabe war-lord before he got out of hand.