"Yes," continued Svenja, "and according to legend, he has been sealed within his lair for centuries. The entrance is on the shore of Lake Fjalding, but it's covered with ice. How could he have escaped? Why now?"
"Eldorf, the fire in the lake..." started Laurenna.
"That might be it." I said, agreeing with her.
"It must be how this creature escaped." said Svenja. "I do not know what sorcery caused that fell flame, but it must have melted the ice! If this is true, the Udyrfrykte is free to walk the lands!"
She looked at me. "Mage, the beast must be stopped! You're no stranger to combat. I can see it in your eyes."
"Well, I have done a few good deeds here and there." I said, not wanting to blow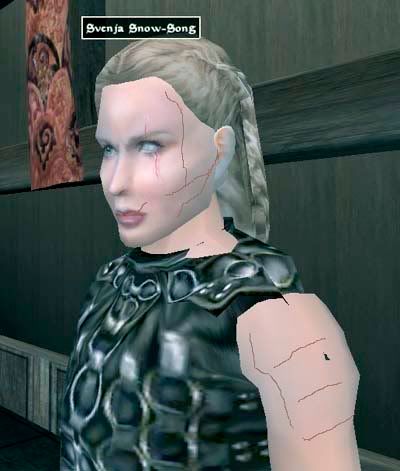 my own horn.
"Do you have the power to slay the beast?" she asked. "Do you have the courage?"
"Well, I...."
"Skjoldr Wolf-Runner was the last chieftain of Thirsk." she continued. "He took possession of the hall when he slew Griss the Yellow and placed his head on the pedestal. But now Skjoldr is dead, and Thirsk has no chieftain. If you can kill the Udyrfrykte and claim some kind of battle trophy, you might be found worthy to rule over Thirsk. What say you? Will you slay the Udyrfrykte?"
Well, I wasn't so sure about handling the day-to-day affairs of a mead hall, but it was clear that this was a monster that needed to be slain.
"Yes." I replied. "I'll kill the Udyrfrykte and claim the chieftain's throne of Thirsk."
Svenja smiled, as did Laurenna, a fellow Nord. "Your words honor me and my fallen comrades." she replied. "The Udyrfrykte makes his lair in the ice caves that run beneath Thirsk. The entrance is located on the shores of Lake Fjalding, just to the west of here. I'm sure you will find the creature there, licking his wounds. If you can manage to slay the Udyrfrykte, make sure you claim some part of the best as a trophy. Bring that trophy back to me, and I will name you chieftain of Thirsk, for that is our way. Go now, and good hunting."