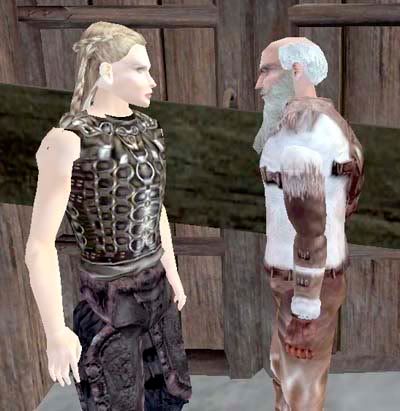 We returned to the mead hall. Svenja was outside, and had the door blocked.
"I'm sorry, Mage, but none may enter the mead hall while..." She stopped herself in mid-sentence, looking at the object in my hand. "You...you hold the heart of the Udyrfrykte! Can this be? You have slain the fell beast?"
I couldn't help but force a sheepish grin on my face. "Well, I did have a little help." I said, pointing to Laurenna. "After all, she did have to represent all Nords in this battle."
She bowed to Laurenna, acknowledging the assist to the kill.
"By the gods, you truly are a warrior worthy of song!" she said. "Give the heart to me, then. I will make ready the mead hall, and when the debris of battle has been cleared, the Heart of the Udyrfrykte will be placed on the pedestal of Thirsk. There is but one more task you must complete before being named chieftain."
Isn't there always one more thing? Of course, there is.