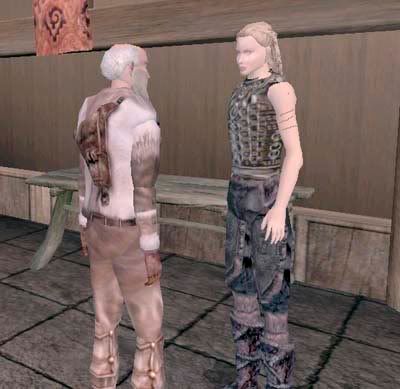 We headed to the back of the hall, where Svenja Snow-Song was waiting for me with a big smile on her face.
"I know that Hrothmund has granted you his blessing," she said, "for I could feel it in the air. The heart of the Udyrfrykte has been placed on the pedestal for all to see. You, Eldorf Dragonmeal, are the new chieftain of Thirsk! Ruling the mead hall is great work, and I understand you may have business elsewhere. I offer to serve as your advisor and second-in-command, and will oversee the mead hall's affairs in your absence."
We decided to take care of a little business, making sure that more mead was ordered for the hall (that's the one thing this place should never run out of, I guess).
She also mentioned that I could rest up in my quarters.
"I have quarters here?" I asked. I looked over at Laurenna, now aware that she had also been in on this surprise, judging by the big grin on her face.
"Yes, your quarters are upstairs." she replied. "The chieftain's room is the one with the wolfskin rug in front of the door. There you can rest and have any privacy you need. Oh, and if you haven't seen it already, I've left a gift by your bed. It is a true chieftain's weapon, one I hope will serve you well."