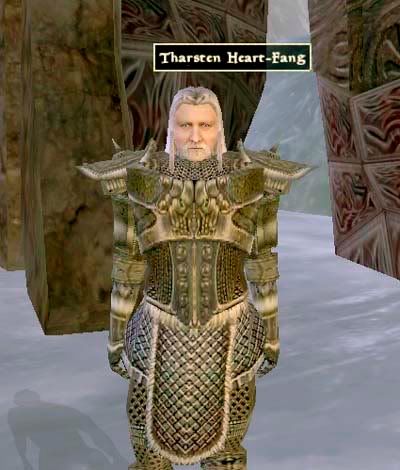 Suddenly, from behind, I could hear Tharsten chuckle. "This is as far as we go, Eldorf Dragonmeal." he said.
"What is going on here?" I demanded.
"I have the key to reach the next stage of the Hunter's challenge, and only I shall continue."
He showed me the key, then glared at me as he put it away.
"This makes no sense." I shouted. "Together, we can defeat him!"
He shook his head. "This hunt is for Heart-Fang, and Heart-Fang alone." he said. "Many generations have I loved now, Hircine's Ring on my finger." He showed me an odd-looking ring. I hadn't noticed it on him before, but there it was. "This Hunt is my birthright!" he continued. "Heart-Fang alone shall face the Hunter. Heart-Fang alone shall earn the glory of the Hunt! See now the power I was born to wield! You now face Heart-Fang in his true form, the form he was born to wear!"