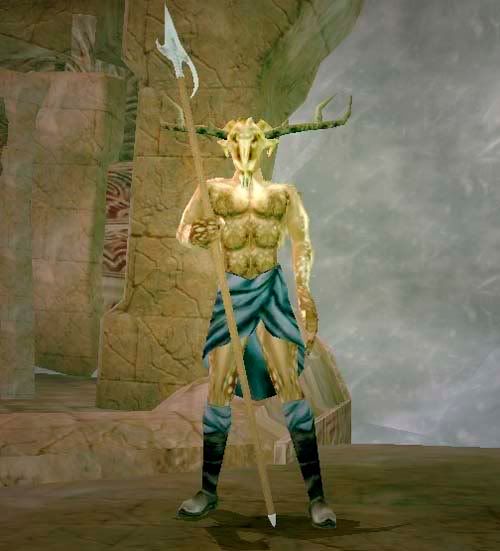 Suddenly, I found myself face-to-face with Hircine once again.
"So...you are the one." he said, bowing politely. "You have escaped my hounds and beaten back the other challengers. I had rather expected the giant to prevail, but no matter. You have proven yourself a worthy hunter, and you have earned the greatest honor that can bestowed upon a mortal: you are to be my prey."
"Well, that's an honor I can do without." I shot back. "Personally, I would have also preferred to watch the giant bust you up."
"Ah, a brave response." he replied. "I ask you, though: what is it that makes a hunter great? Is it his strength? The speed with which he strikes? Or is it his guile, the ability to outwit his prey? Answer me, mortal, and decide your fate."
I had to think fast - whatever I chose, that's what I would have to defend against. I didn't want this to be an even match. I thought of what I had brought with me. The Ring of Weapons would give me a way to fight and block his attacks; I still had a large number of health and magicka potions with me. The one thing I didn't want him to be was stronger than me. That was it! I had with me the Belt of Berserker's Rage. It would cut down on the amount of magicka I could use, but the strength it would provide........
"Speed." I replied. "A hunter's greatest strength is his speed."
Hircine nodded once again. "So you have chosen, and so shall be your fate. To face me in all my glory would be less than sporting, so you shall face but one of my aspects, the one you have chosen." Hircine spun his staff, looking up to the ceiling. "We have little time - the Bloodmoon sinks low in the sky. Prepare yourself, mortal, for now you are the Hunted!"