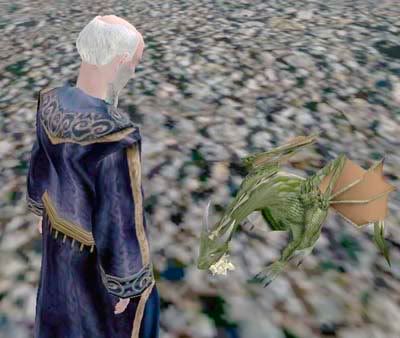 It was a large mudcrab, so I was able to extract several pieces of crabmeat from the dead creature.
"Here, food!" I said, putting the crabmeat in front of the baby dragon.
"Food!" he cried, running over to the crabmeat, taking piece after piece, gobbling it up in just moments.
"Hungry!" he cried, finishing the crabmeat. "Food!!!"
It was apparent that this baby was going to need lots of food. We went from one end of the island to the other, killing every mudcrab we could find, and still, all I could hear was "Hungry!!! Hungry!!!"
Using a levitation spell, I went from one island to the other, my baby dragon gently flying behind me. We found rats, nixhounds, and more mudcrabs, and each one provided a little more food for the hungry baby dragon.