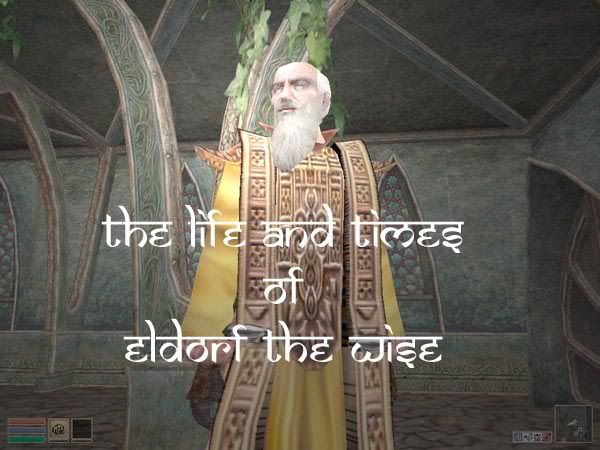 THE KEY TO SOLSTHEIM CASTLE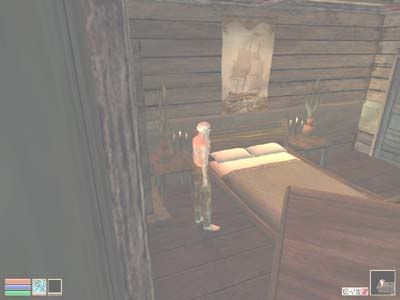 I spent the night sleeping after my long journey to the island. The only disturbance I experienced was at midnight, when the two Nords decided to have their midnight fight. There was a lot of noise downstairs, but it was mainly from the patrons cheering on their favorite contender. I rolled over and went back to sleep.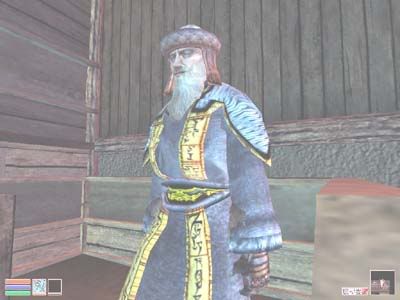 It was quite cold out that morning, so I put my warm robe back on, and added the two gloves, boots, and hat I had brought with me. There was a distinct odor of of smoked fish in the air, so I stopped by the fish monger near the inn, found something to eat for breakfast, and continued on to the castle. I was interested to see what this place was like.
Going around the docks, I trudged through snow left on the ground from yesterday. I was glad I had the boots on. I didn't want snow getting into my shoes.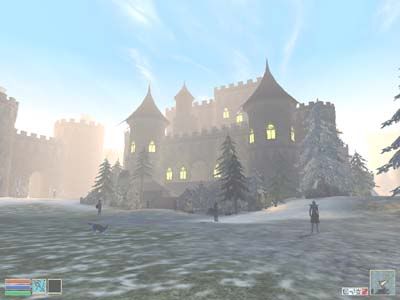 The castle was huge, larger than I had imagined. The courtyard had smaller buildings to house the guards, barn, and the local smith. I tried going directly into the castle, but the door would not open. This was the riddle of some sort of key I had heard about. "Strong of heart and pure of honor, the head of Heimdall has eyes that see." No clue what kind of a key that would be, but decided to find out what I could by asking one of the guards.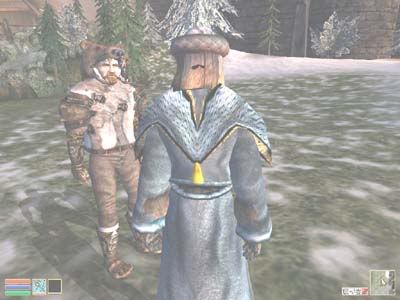 After asking several of the guards, I happened upon Greyfell the Bearslayer. He was a rough, grizzly old warrior, but he seemed to know about Aegir Brondolf, and his burial place, just a short walk to the north. He said that's where I would find my answer to this riddle.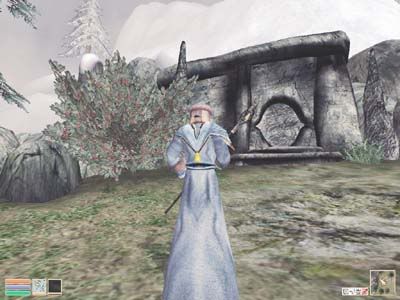 Well, after just a short walk, I came across the tomb (the only tomb on the island, so it was not hard to find). I took out the wizard's staff I had brought with me, and went inside.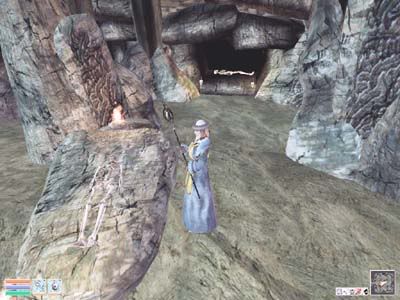 I went down a long tunnel, splashed through some water that had seeped in through the ground, then came to a right/left turn. I turned to the right and continued down. At the end of the tunnel, I came across a burial chamber with a number of skeletons in it, but no key, or even anything that might have been used as a key.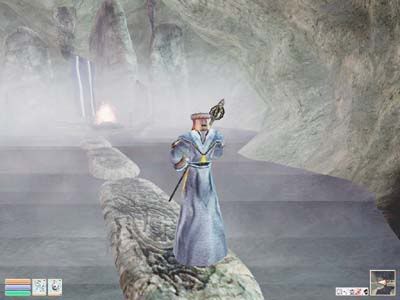 Coming up empty in one direction, I went back to the intersection and took the left turn instead. This took me to a large misty chamber. In the distance I could see a boat moored in the water. How someone managed to get a boat inside of a tomb, I'll never know. It looked like there was a fire on it, but it was magical in nature and didn't seem to damage the boat at all.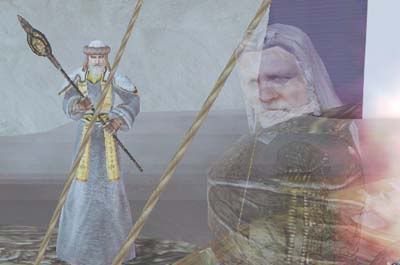 There, in the middle of the "fire" was the corpse of Aegir Brondolf. I turned to the left and saw his spirit appear on the bow of the boat. I readied my staff, expecting an attack, but he just stood there. I decided to try diplomacy instead of battle. He greeted me, and asked how things are on the outside. Well, I didn't really have much news, but I replied that it was 7th day of Second Seed, that it had snowed yesterday, and it was a very cool and crisp morning outside. He seemed to take heart that I was actually shooting the breeze with him. "I don't hear much about the outside since my demise." he said. "I'm not actually certain what happened to me. I was feeling ok until a short time ago, and then suddenly, I fell ill and died." I told him I was sorry about his situation.
"You know..." he started, "there is one thing that truly bothers me. Every night, around midnight, grave robbers come here to loot my treasures, and those of my family in the next chamber. I would be willing to reward you if you could get rid of them." How could I refuse such a man of honor as this? "I would be honored to assist you with this problem, Aegir." His spirit smiled at me.
We spent the next several hours talking about his exploits as a warrior, and my mis-adventures here so far. For a dead guy, he certainly could tell a story or two. In fact, I was fascinated by some of the war stories he told. Most of them occurred while I was stuck in the Emperor's prison. If he had been a living person, I would have enjoyed getting good and drunk with him, telling stories and such. He was amazed that I had been afflicted with vampirism and and managed to find a cure for it.
Around midnight, I headed to the front door, and using a chameleon spells, went outside. There, right on cue, were two grave robbers. My spell prevented them from seeing me. I had to time this just right. The spell would wear off in 30 seconds. The wall of fire spell would take 3 seconds to kick in. I cast the wall of fire spell, and just a moment before the flames appeared, the chameleon spell wore off. The bandits attacked, running towards me with weapons drawn. Then the fire kicked in. The robbers didn't stand a chance.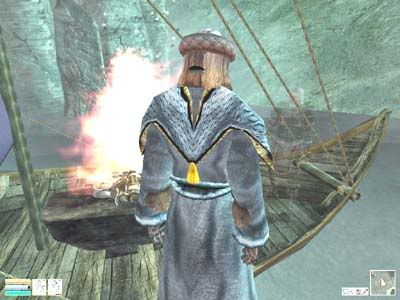 I reported back to Aegir to report the good news. He was extremely relieved that his grave would no longer be robbed. Then, he proceeded to tell me of one more war story, that of Heimdall's Head(the key that I was looking for). Turns out it was a monster he had to do battle with.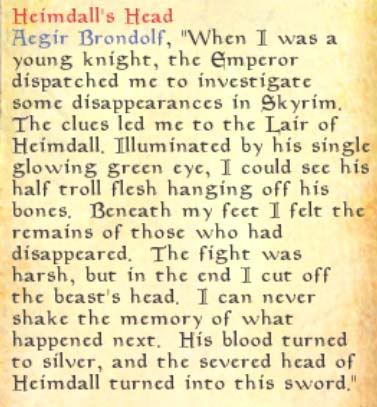 After he cut off the creature's head, it turned into a very, very large broadsword. In fact, it was the one laying on his corpse.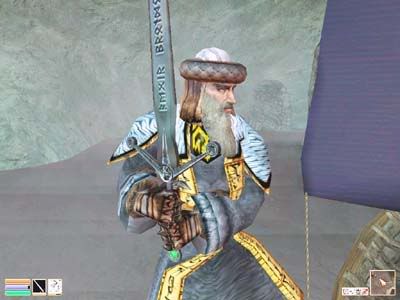 "You have proven yourself worth of my castle, Eldorf. I give you the key." I found myself holding this great sword in my hands. Even though it wasn't enchanted, I could feel the spirit of a great warrior in it. Being a mage does that, sometimes.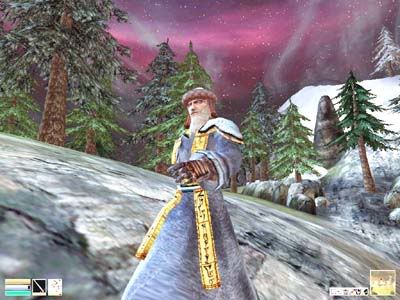 I bid him farewell, and said that I would visit him again one day, then headed back to the castle.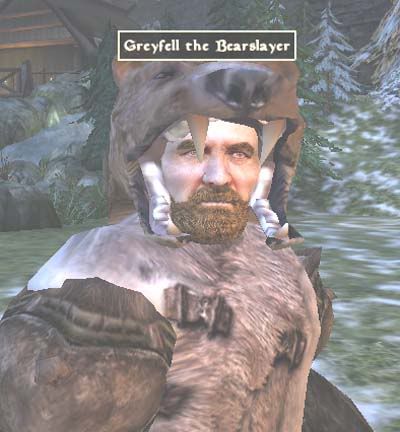 Greyfell met me outside the castle, and I told him what had happened. "So, the sword was the answer all the time, was it? Well, you being the clever one, I'm glad he gave it to ya. You seem a right likeable person. Go on, enjoy your new home. I walked up to the front door, and felt it unlock itself before me. I swung the door open, and stepped inside.