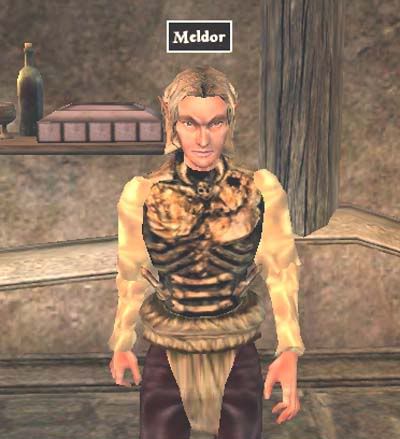 Meldor finally made his way up the stairs, took one look at Laurenna, and suddenly went on about how important it is to ensure that such a lovely lady should have the finest armor and weapons, which he, of course, could supply (at a reasonable price, of course). I calmed him down after a few minutes of his sales pitch and advised him that I was here for a ring that was left in his care for me.
"Oh, the ring from Fast Eddie, er, yes, um, I have it right here for you." Meldor started rumbling through his pants pockets, his shirt pocket, and his face started to turn red. "Oh, I know it's here somewhere, just a minute." and he started going through some of his boxes under the counter. The guard could be heard chuckling under his helmet as he watched this little wood elf try to find the simplest of things that should have been kept in a safe and secure spot. I, on the other hand, was less than amused. If he lost this ring, it would still mean a journey to my stronghold, just much longer than I was hoping for.
"Er, uh, good sir, I am sorry. I cannot seem to find it." he mumbled. "Well, where did Eddie give it to you in the first place?" I said, trying to be helpful, instead of angry. "Er, um, well, I met him near the stilt strider as he was leaving, and he gave it to me there. I know I put it in my right pants pocket, and walked straight from there to my shop." "And, what is in your pocket now?" I said. Meldor dug deep into his right pants pocket and came out with his finger poking through a hole in it.
Great: A very helpful ring, and it cannot even make it safely for 60 strides without getting lost.