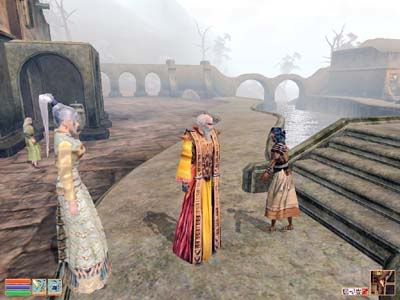 On our way back to our home, one of the children playing by the river stopped us and asked if we had been having bad dreams lately. I said we hadn't, but then asked why she wanted to know.
"Oh, my daddy had one a few nights ago, and then my mommy had one, too."
"Yeah," her friend added, "I had a bad one last night. It was scary." "What was it about?" I asked. "Oh, I don't remember it too well, but it was a creepy guy in a mask. My daddy had it, too, about five nights ago." "Oh," I said, smiling, "it must have been a dream about the emperor, then. You know, they say he is as ugly as a cliffracer." The children laughed, and then went about playing.
"What do you think that was all about", Laurenna asked. "Not sure." I said, "It might be .... Oh, never mind. It's probably nothing to worry us. Oh, before I forget, I'd better report to my stronghold and tell them about the dragon I saw in Caldera. Can you meet me back at the house? I should only be a few minutes." "Sure," she said. "Hurry back, ok?"
I kissed her and said I'd be back in a few minutes. I used Eddie's ring and found myself in the stronghold lobby.