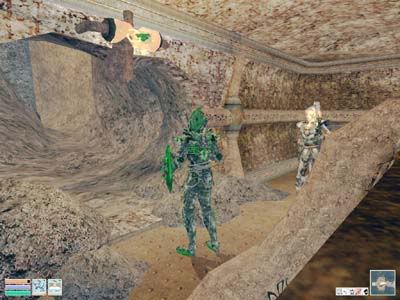 In yet another chamber, we found a centurion sphere, and it was pretty hard for the two of us to take down. "Are you injured?" I asked Laurenna. "Yes, a little, I'll try one of your health potions."
Try she did, and the healing effects worked their magic on her quickly. In no time, she was back to her fully powerful self.
"Do you make these yourself?" she asked. "Of course," I replied, "that's why they taste so good." "Ha ha, very funny." she replied, in a very sarcastic tone.
After doing a little searching, I found a huge hole on the other side of a steam-powered turbine. It was a cave connected directly to the edge of the wall, possibly an ore mine. We decided that since we can this far, we may as well see where this leads. Who knows? Maybe there'll be a puzzlebox in it.