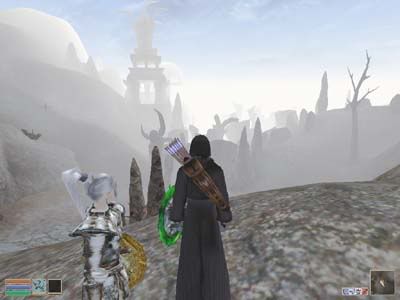 After hearing his story, we chatted with several of the guards there and confirmed they all felt the dragon was hiding either in or just east of the Daedric ruins near the fort. "How far is it?" Laurenna asked. "Follow me, I've been there before." I said. It was true - I had been to this place once before, just hunting and raiding these places of evil.
It was not more than 5 minutes walk when we encountered the ruins.
"What makes that smell?" she asked.
"Oh, as I understand it, we are near Ghostgate, that surrounds Red Mountain. Lots of Corpus beasts and infected people there. It's probably rotting flesh you smell."
"Ewwww, I don't think my nose can handle that. I'm sure glad we don't have to go there!" I smiled and agreed. This dragon would be quite enough, thank you.
We found a few daedric creatures, there, all of which tried to kill us. Lucky for us, we had other ideas. After taking care of them, we searched around for evidence of a dragon in the area.