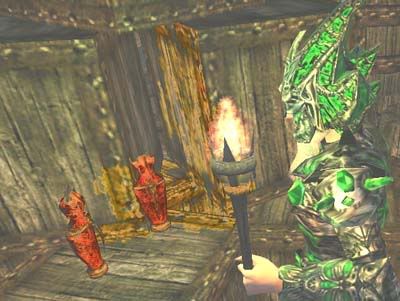 We didn't find his sister, nor was there any sign of a dragon to be found, but we did find a smuggler's hideout. After getting rid of the smuggler's, we checked out the crates they had amassed in this cave.
Among the normal stuff (weapons, soul gems of various sizes and shapes, armor, gold, etc), I found a few things I had found once before: ash statues. I wasn't sure of their significance, but I had found similar things in Sixth House bases that I had raided over the last year, so they had to be related to that sort of thing.
There was too much for us to carry, so we decided to come back later and get it when we had the time.
As we left the cave, we saw the dragon circling the sky in the distance, then saw it swoop down, blazing fire from it's mouth, and eating someone or something, then flew off to the east.
It was the girl, Salus' sister. The dragon had eaten her alive, and we had failed in our mission to bring her back to Hla Oad safely.
We would have to find it's cave on our own.