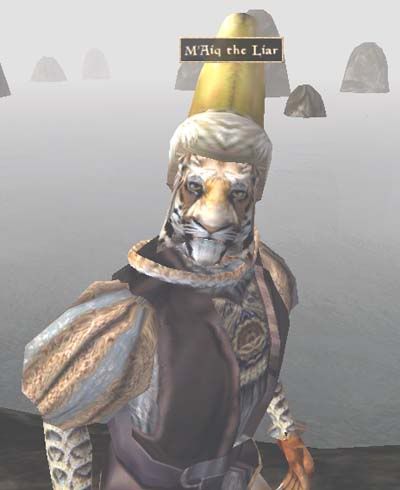 "Ah, a mage you are." he said, purring all the time, in true khajiit form. "What M'aiq do for you?" he continued.
"I have some questions for you, and a letter to give." I said, in a most commanding tone. This cat was thrilled to be given such important information for safekeeping.
"What about dragons?" I asked. "Oh, they fly very high," he said, "except for the ones that fly close to the ground, as you cannot see them because they are invisible."
I asked him about horses, and he said "Oh, M'aiq loves horses, especially when cooked with cream sauce."
When asked about a Lich, he said "Oh, you let M'aiq know where Lich is and M'aiq look the other way, ugly they are."
This creature was more amusing than Creeper.