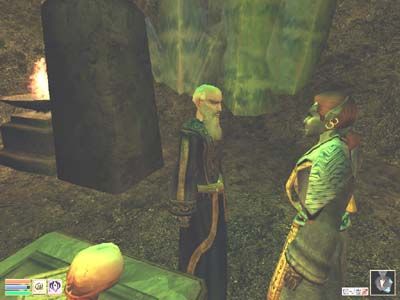 I returned to Balmora and gave the soulgem to Thuvien Demnevanni. He told me that there was rumor of an extremely rare artifact that he had heard of. Over a thousand years ago, a race called the Dwemer simply vanished from Vvardenfell, leaving behind their strange strongholds with those strange, enchanted robot machines that walk around. Once in a while, you'd encounter one of their spirits, but nothing physical remained of the Dwemer race since their disappearance - until now.
"Rumor has it that in Aleft, a Dwemer structure south of the fishing village of Gnaar Mok, an actual bone may be found somewhere inside. Necromancers can use bones of the dead to commune with the spirit of the deceased." he said. "It may be possible to communicate with the spirit of this Dwemer, find out what happened to them."
I said I would be happy to help, and rightly so, since it might be the key to solving one of the greatest mysteries of the Empire: What happened to them?
Of course, there are no guarantees of anything, but nothing ventured, nothing gained.