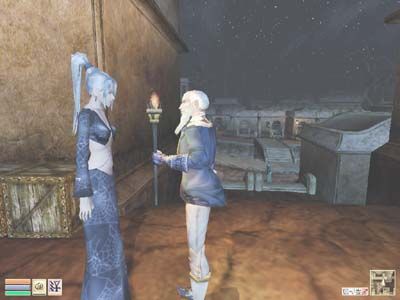 Laurenna and I spent a rather quiet dinner at the Eight Plates that night, both feeling a little unnerved by the encounter we had with the sleeper on the way to dinner.
On the way home, Laurenna asked me a question: "Eldorf, do you think this has anything to do with the work you're doing for the spymaster?"
"I have to be honest with you," I replied, "I think it does. Many people here have reported bad dreams, all similar in nature, and even I had one as well, exactly as other people described it. I believe this 'dream' affects people, some, more than others."
"Strange," she replied, "I had lived in Lokken all my life, and never had such a dream."
I thought about it for a moment, then said "It would be interesting to check in a few surrounding communities to see if anyone else is having such dreams. You know, I can't recall anyone in Caldera mentioning bad dreams to me before - it's just here in Balmora."
"What about the book for the shrine we need to get?" she asked.
"Well, let's go to Vivic in the morning and check with Jobasha. He almost always has something of interesting in his store."