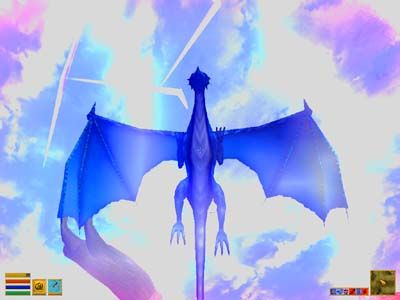 The dragon responded with an attack of it's own, however, unlike the dragons before it, this was different. Along with a blast of fire, it added a shock spell imbedded in the flames.
The blast sent my head reeling, and all I could see were sparks before my eyes.
I had been hit by shock spells before, but never this powerful.
Quickly, I used two of the homemade restore health potions I had brought with me. Made with the finest alchemy equipment in Vvardenfell, they would restore my health faster than this monster could drain it.
One shot of Leach Ring after another, then one blast after another with Dracula's Ring, not as powerful, but able to provide dozens of hits before it wore out. I included a burst of poison bloom, one after the other, until the dragon finally swooped down, blasting a guard into flames, then grabbing the body before it could fall. With the guard firmly in it's jaws, the dragon jumped into the air and flew to the north, fading into the clouds.