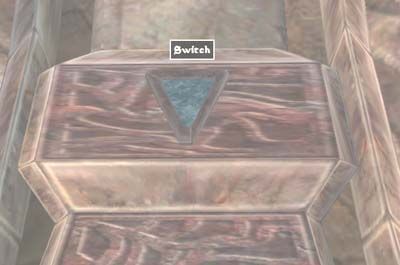 I started looking around for some Dwarven crank, secret panel, trap door, or anything I might have missed, when I noticed that there were several switches on the wall. In fact, there were 2 for each section, 8 in all.
I tried one, and nothing happened. I tried another, and still nothing. Perhaps only one switch works the "something" that I need to use?
Finally, one of the switches worked! It lit up brightly. I was happy for a moment, but nothing happened - it just stayed lit up.
I tried another switch, and it was still dead. That's when I noticed that the one that was lit up had gone dark. I tried it again, and it lit up again. I tried the switch next to it, and the lit one died out right away.
I turned the working one on again, and one after another, tired the other switches, each time, having to re-activate the only working one in the temple. After a number of tries, I managed to get two of them on at the same time.
It was a puzzle.
It took a number of tries to get the switches activated in the right combination. When I finally got the last one activated, one of the pillars in the center of the water dropped to the floor.