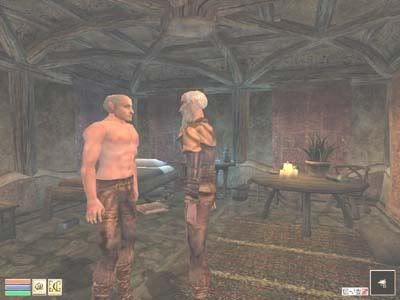 I slipped on an old shirt and pants and headed over to Caius' home.
His eyes were bloodshot from hours of smoking skooma. Poor guy, I thought. Hopefully, the emperor will never find out.
"Eldorf, I've thought it over and there are some people I need you to interview for me. All three of them live in Vivic. They have information concerning this Nerevarine cult and the Sixth House activities."
What a stroke of luck! I had to go to Vivic to see Illwing Redwood - I'll be able to kill two cliffracers with one arrow.
"I understand." I said, "Who are they?
"Well, first, speak with Addhiranirr. He's a Khajitt Thieves Guild operative. Second, I want you to speak with Huleeya, an Argonian that's associated with the Morag Tong. Finally, speak to someone by the name of Mehra Milo. She's a temple priestess. Each of them can tell you something about either the Nerevarine cult or the Sixth House cult."
"Vivic is pretty large." I replied. "How will I find the Argonian and the Khajitt?"
"Well," he said, "Addhiranirr will probably be found in the St. Olms canton. She won't be easy to find, but just ask around in St. Olms, and someone will usually point you in the right direction. I should caution you that residents there are easily offended, so a little courtesy, a little coin, a favor in the right place will do wonders for you."
"And the Argonian?" I asked.
"Huleeya is a Morag Tong assassin. You can find him slithering around in the Foreign Quarter. He is known around the city as a lover of books and old things. My sources tell me that he often hangs out at the Black Shalk Cornerclub."
He gave me a stern look. "Now, about Mehra Milo. She will be found in the libraries at the Hall of Wisdom and Justice. This place is open to the pubic. Just walk around until you find her. Do NOT ask anyone at this hall about her. I don't want to draw attention ot the fact that she is talking to an outlander, even though you have earned a very high reputation in these parts, what with your status with two guilds and a great house. She is a good friend, and I don't want her to get into trouble."
"I understand. I promise I will be descrete."
"Good." he replied. "When you obtain the information from the, report back to me. That's all."