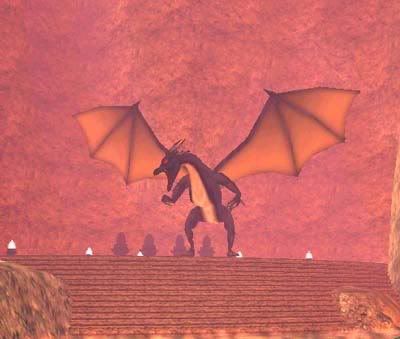 I woke up after a few hours of rest. All of my enchanted rings and things had fully re-charged, so there was no longer any reason to delay.
I stepped through the door and immediate noticed the stench of dead bodies all around the room. Unthoiz noticed my arrival, and stood up on his hind legs, unfolded his great wings, and roared loudly. The sound of his anger reverberated on the cavern walls in response.
Yet, he did not attack, seeming to be content upon the upper portion of the cave he had been resting on.
"Hail, Eldorf Dragonmeal. I am Unthoiz, Lord of the Dragons. What is the reason for your visit?" I started to answer, but he interrupted before I had a chance to say anything. "Don't answer," he continued, "for I know what you search for. Don't play games with me. I am old and wise beyond your mortal years." He paused for a moment, gazing with amusement at the look on my face. "I suppose you are also looking for the Gem of Peryite and the Staff of Tharn." I couldn't help but look shocked that he would know about it. Unthotz noticed the look, and continued "The expression on your face shows me that I am correct. I have them both' it was very kind of that other wizard to bring them here."
"I saw his body before I came in." I replied. "Why did you kill him?"