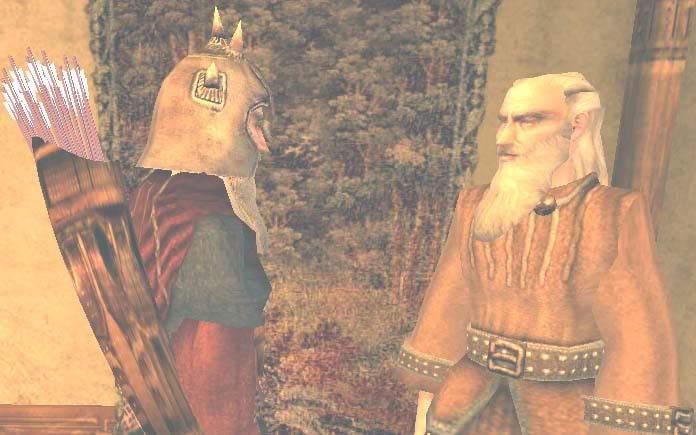 After teleporting back to Caldera, I headed back to the inn where Illwing Redwood was staying, and found him in his usual spot.
"I was starting to worry about you." he said. "Have you found Julius?"
"Yes, I found him," I replied, "but unfortunately, he was already dead. I found his corpse. He was slain by Unthoiz, the black dragon."
Illwing looked puzzled. "I don't understand," he said, "did he not find the Gem of Peryite? Did the staff not work?"
I told him that the staff didn't work as Julius thought it did, that Unthotz awoke and killed Julius, and that the staff was usless against dragons. The only purpose of the staff, I told him, was to make creatures grow faster.
"I am sorry to hear about Julius." he said. "In the past, he was a mighty wizard, but his yearning for power may have been his undoing. Maybe the power of the staff made him an evil man? Corrupted him with the hope of control?"
"It would seem so, based on his notes." I replied.
Illwing smiled, and said "Anyway, it is good to see you have made it out alive. Did you kill Unthoiz?"
"Yes, I did." I said. "It wasn't easy, but he's dead. I took the staff and gem. I have them with me now. Here," I said, handing the items to him, "take a look at them."
After looking at the staff and gem, inspecting them as any skilled wizard would, he said "These really are intricate pieces of work. Now that Unthoiz is dead, his plans for taking Tamriel back are over. Without his influence, the dragons of Vvardenfell will join the Imperial dragons. Of course, some dragons will continue attacking the cities, but I imagine, since their leader is dead, the attacks will subside greatly." He patted me on the shoulder, continuing "You have done a great service to the Empire, and all the people of Tamriel. As a reward for your deeds, you can keep the staff and gem for yourself, perhaps post as a trophy on your wall."
"You know," I said, "there were 4 dragon eggs in the cave. I wasn't sure what to do with them."
Illwing looked amazed. "Really?" he said. "What an amazing thing! I thought only female dragons kept the eggs." He thought about it for a moment, then added, "Maybe if Unthoiz had these eggs, it might be because they are his own sons, and they might have strong factus inside of them. You said there were 4 of them, correct?" I nodded in agreement. "That would mean each egg would have a different kind of dragon inside.
"Do you think that as baby dragons, they could be successfully controled by the staff?" I asked.
Illwing's brow furrowed in thought. "I don't know." he said. "A dragon has an incredible magic power. I doubt that a Breton could use the staff to make such a thing, but it may be possible. Tell you what - after all you have done, it's the least I can do for you. Give me the staff and gem. I will study them and see if it's possible to do what you are asking."
I hesitated for a moment, then decided to let him have these two items.
"Come back in a while and I'll let you know if I've discovered anything."