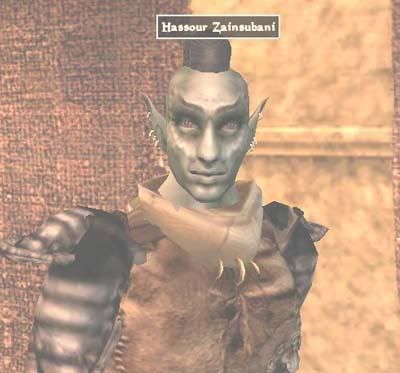 We found Hassour Zainsubani in the lower section of the inn, enjoying a brandy.
I introduced myself and Laurenna to him. "Ah, this is your wife?" he said, "She is very pretty." He took another sip of his brandy, then continued "Your reputation preceeds you, Eldorf, the Wise. I do not wish to be ruse, but if you have business, speak it, for I am at leisure, and would prefer to be alone with my thoughts."
"Perhaps this gift may help with your leisure." I said, as I handed him 1,000 drakes.
"You are most generous and thoughtful, Eldorf." he said. "How may I help you?"
I told him I wished to learn more about the Ashlanders and their customs. He explained about gifts, how useful it is to gain favor with others, and how important it is to obtain the right gift, that it should be tailored to the receiver.
"How should one act when entering a camp?" I asked. "It comes down to courtesy." he replied. "You see, an Ashlander may challenge a stranger who enters a yurt without invitation. Customs differ, depending on the tribes, but essentially, you should leave when told to do so, and they may forgive your trespass. Now, listen carefully to this: Be very careful about ashkhans - tribal chiefs - and wise women - tribal seers and counselors. Some are welcoming, but some may be hostile. Be courteous, and leave if they tell you to do so, or you may be attacked."
He went on to tell me about challenges, that some are for sport (in which case, it would be acceptable to decline), but if challenged for honor, it would be shameful to decline, and that a challenge may come from an offense in speech or action.
"What is the story with Ashlanders and foreigners?" I asked. "I would get that 'outlander' thing all the time, whether in town or in small villages."
Hassour sighed, realizing that he'd be talking about me directly, but proceeded to answer my question anyway. "It has to do with history." he said. "You see, most Ashlanders wish all foreigners and their false gods could be driven from Morrowind. At the very least, they wish that the foreign devils would leave them in peace. Ashlanders think it is shameful to attack unarmed persons, but they will kill without hesitation an armed person who offends them or their clan laws. No Ashlander is fool enough to make war against the Empire. However, if such a war might be won, many Ashlanders might cheerfully give their lives to win such a war."
"Does this have anything to do with the Nerevarine cult?" I asked.
"I believe it does." he replied. "They worship the Great Ashkhan and Hortator, Nerevar Moon-and-Star, who, in ages past, destroyed the evil, godless dwarves, and banished the treacherous Daogth Ur and his foul hosts beneath Red Mountain. The cult is of small consequence in Ashlander worship, and only among the Urshilaku do its followers have any influence. Other Ashlander tribes share the sentiments of the cult, but regard the Nerevarine prophecies with suspicion and skepticism."
"So," I said, "not all the tribes are as strong in their feelings about this cult. Interesting." I pondered this for a moment, then asked if it had a large cult following.
"Well, all Ashlanders in a tribe, young and small, are born into the Ancestor cult of their clan." he said. "The Nerevarine cult is different, though; it is a very small cult, with only a few wise women with the gift of prophecy, and a few holy warrior-heroes who guard and protect the seers. Sul-Matuul, Ashkhan of the Urshilaku, is the Warrior-Protector of the cult, and Nibani Maesa, also of the Urshilaku, is the Oracle-seer of the cult."
"What about these Nerevarine prophecies? What is it supposed to mean?"
Hassour grinned, as if sharing a pleasant joke. "Ah, well, I have heard it said that prophecies foretell the return of a reincarnated Nerevar, who shall drive the foreigners from the Ashlands, and who shall cast down the false gods of the Temple, and restore the true worships of the Ancestors. It is a dream that would appear to every Ashlander, but it is thought but a silly, ancient legend, and little more, by many Ashlanders - myself included."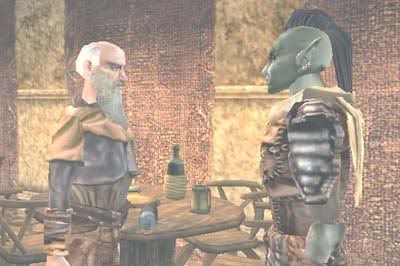 Disturbing dreams - I remembered that Caius said to keep a lid on it, but I just had to ask. "Among several people in Balmora, my wife and myself included, have been having disturbing dreams. Do you think they mean anything?" I described some of the dreams we had been having. Hassour thought for a moment, then said "Perhaps it means nothing. It is peculiar, the tall figure in the golden mask. It puts me in mind of the golden helm of the Ordinators, but that does not seem to fit the, uh, spirit, and the dream. You know, my people take careful account of dreams, but only a wise woman can tease their meanings from them."
I thanked him for his time and ordered another brandy for him. "How is life as a trader?" I asked.
"Oh, I am too old to travel now." he replied. "I no longer care to risk the beasts and bitter blights of the wastes. Now I sit here, warm, and savor my imported Cyrodilic brandy, while my adventurous son, Hannat Zainsubani, assists me in my trade, seeking out sources of fine ebony."
"He sounds like he is following in his father's footsteps." I replied. "You must be very proud of him."
"He does follow in my footsteps." he replied, "But sometimes I wonder, he has been away so long, and not a word to his father. Surely he wishes me to die of worry, so he may inherit this fine brandy. He has proposed to chart the rarely visited ancient underground complex at Mamaca, west of Red Mountain." He took another sip of brandy, then leaned over to me and added, "If you should chance to see him in your travels, chide him, and tell him an old man longs for news of his son-and-heir."
"I shall surely do that." I said. "By the way, where exactly is the Urshilaku camp now?"
"Well, they move with the herds of guar, but they're usually near the shore of the Sea of Ghosts in the north. Sul-Matuul is their chief. Be mindful of these things I have told you about courtesy, or you may find yourself with a challenge of honor. Here." he added, "You had better take these notes."