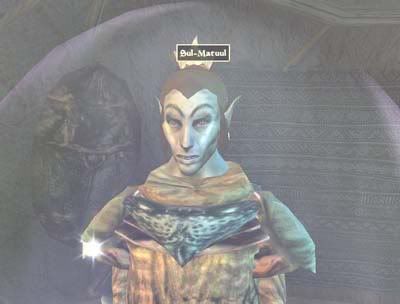 I found Sul-Matuul in his yurt, and found that expecting an attack from an outside, he had formed a barrier around himself. He soon found out that it was not needed, that I provided no threat to him.
"Zabamund has sent me to speak with you about some important matters." I said. "I also offer you a gift of 3,000 gold coins out of respect for your position."
"You show wisdom in your actions, Eldorf the Wise." he responded respectfully. "Your reputation precedes you. What is it you wish to discuss with me?"
I told Sul-Matuul about my involvement with the Nerevarine prophecies, and gave him all the information I had concerning the subject. After I finished my story, he sat in front of his fire, lost in thought for a few moments. I did not rush him, as I realized he was taking a big chance even discussing this cult with someone not a member of his tribe.
After a few minutes of meditation, he finally looked up and said "You think you fulfill the Nerevarine prophecies. You wish to be tested to see if you are the Nerevarine." "Yes, sir. That is correct." I confirmed. "Here is my problem, Eldorf the Wise: No outlander may join the Nerevarine cult." I started to protest, but he held his hand up, giving me pause. "If you were a Clanfriend, an adopted member of the Ashlander tribes, then perhaps."
"I see." I said, "Is there anything that can be done?"
Sul-Matuul smiled and said "I have an initiation rite in mind. If you pass this rite, I will adopt you as a Clanfriend of the Ashlanders, and then submit you to Nibani Matsa, our wise woman, who is stilled in oracles and mysteries. She will then test you against the prophecies."
"I am willing to undergo this rite." I said. "What do I need to do?"
"You are indeed brave." he replied, "To be adopted into the tribe, you must undergo a harrowing. In a harrowing, you will be judged by the spirits and ancestors to see if you are worthy. You must go to the Urshilaku Burial Caverns and fetch me Sul-Senipul's Bonebiter Bow."
I gave him a "who?" look, and understanding that I didn't know anyone here, he realized that I didn't know the significance of the name. "Sul-Senipul was my father, and his spirit guards his bonemold long bow deep in the burial caverns. Return to me with this bow, and I will adopt you into the Ashlander tribes as a Clanfriend."
"I will do this rite for you." I replied, "Where are the caverns located?"
He explained the directions on how to find the caverns, then added "Be warned: The spirits of our ancestors guards the caverns. They will attack and will kill you if they can."
"I understand." I said. "One more thing." he added, "Your wife will remain here with me until your return, or until there is news of your death. You understand, of course, that this is a mission you must complete on your own."
"Of course, and I understand. I assume Laurenna will be well cared-for."
"Naturally." he replied. "If necessary, one of my people will see here safely as far as Maar Gan. We will wait several days for your return."