"What can you tell me about this situation?" I asked.
"It was horrible." she started. A patrol of ours stumbled upon a Sixth House base, and per standing orders, they went in to wipe it out."
"What was so bad?" I asked, assuming any standard-sized Imperial Legion patrol would be able to deal with a few monsters. Her answer shocked me.
"Only one trooper returned." she replied. My eyes opened wide in amazement. "One trooper out of an entire patrol?" I asked. She turned away from me for a moment. "He died soon after his return here." she said. "He was horribly disfigured with corprus, half out of his mind." She turned back to me, continuing. "In his ravings, he said something about a cavern on the west coast, calling it 'Ilunibi'. Now, it's not on any of our maps, so you'd have to check with someone in Gnaar Mok."
"What happened there?" I asked.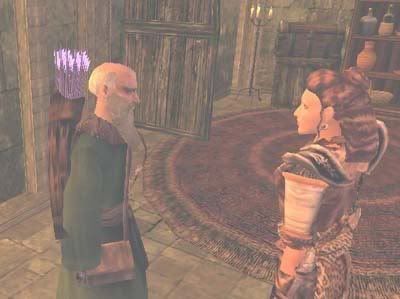 "He said that they fought with cultists and disfigured man-beasts, probably corprus monsters, since the disease does cause physical change to the body in ways I cannot describe. They ran through cave after cave, getting lost in the twists and turns of this dark place until they encountered a half-man creature that called himself Dagoth Gares."
She gathered her thoughts for a moment, then continued with her report. "This Dagoth Gares slew the rest of the patrol, but spared the one trooper."
"Why do that?" I asked. "I thought that if trying to keep a secret base secret, having someone go out raving about it's existence would be counter-productive."
"I would agree." she said. "But Gares told the trooper he was being spared, so he might tell others that 'The Sleeper Awakes,' and 'The Sixth House has Risen,' and 'Dagoth Ur is Lord, and I am his Priest,' and 'All will be One with Him in the Flesh.' The trooper awakened outside the caves and returned here. We couldn't recognize him at first, and he didn't respond to questions. He just kept repeating those statements until he died."
"He died of corpus?" I asked, now very concerned. I had seen earlier stages of the disease, but never one so advanced that it could kill.
"I had never seen the disease before," she replied, "but yes, it killed him. His flesh was swollen and covered with growths, bones twisted, deformed, you get the picture." I nodded in agreement. "He was speaking to himself, as if he was dreaming. The only way we knew him was his armor."
"Wasn't there anything anyone could do for him?" I asked.
"No," she said, "our healers tried spell after spell, and some of the best cure-blight potions, but nothing helped. I hear there is no known cure for it. The strange thing is that I had always heard this was a slow death, where the victims linger for years. I didn't realize how fast corprus kills. I don't know, maybe it was the way it was contracted. The troops here are pretty shaken, and to tell the truth, so am I."
"Ilunibi" I mumbled. "You said it's on the west coast?" She nodded in the affirmative. "No one here knows where it is," she said, "but I think if you check with the people of Gnaar Mok, they might know of it's location, that is, if you're in a hurry to get yourself killed."