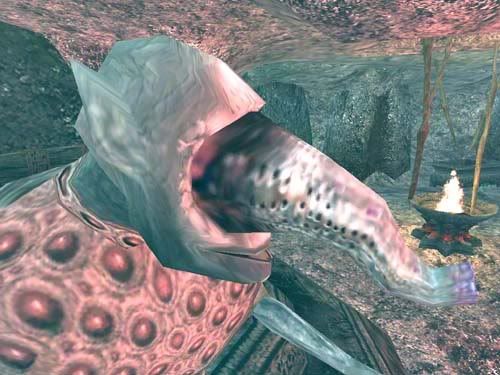 "What of this Sixth House nonsense?" I asked.
Gares seemed amused at the question, but replied none-the-less. "The Sixth House was not dead, but only sleeping." he said. "Now it wakes from its long dream and with it's Lord, Dagoth Ur, it comes forth to free Morrowind from foreign rulers and divine pretenders. When the land is swept clean of false friends and greedy thieves, the children of Veloth will build anew a garden of plenty in this blighted wasteland."
"And this so-called shrine of yours?" I asked.
"Oh, this shrine is just a small, quiet retreat for our servents," came the reply. "Here, they can contemplate, grow strong and wise in Lord Dagoth's ways. As you could see from the servents you slew on your way in here, we share the sacraments of flesh and blood, and dream the dreams of our Lord. Oh, to be sure, there are other shrines hidden from prying eyes througout the land, but the greatest of our shrines and servents lie beneath Red Mountain, in the citadels of our Lord and his close kin."
"Yes, well, these servents of yours wanted to kill me." I said, "Now you welcome me?"