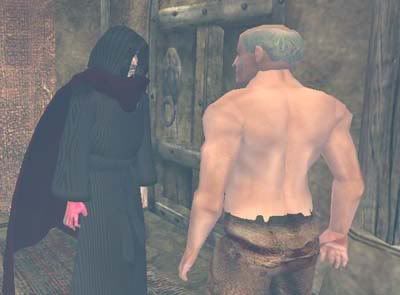 Caius Cosades was very happy to see me, but was very upset with me as well.
"Eldorf," he said, "do you realize that I had 5 people looking for you, including your wife? When Sara, from your stronghold, arrived here I put her in touch with Laurenna, and they both ended up tracking you back to your very own stronghold."
I said I was sorry, then told him that the Gares person was dead, and he gave me corprus, and I didn't feel very well.
"Hmmm, with Dagoth Gares dead, the Sixth House shrine is no longer a threat." he said. "You've more than earned a promotion to the rank of 'Traveler'. I am also very worried that you have corprus disease, but I may have some good news in that department."
"What good news would that be?" I asked. "Some way to slow it down?"
"Well, maybe." he said. "I canvassed my informants for possible treatments, just in case you contracted the disease during your mission. I learned from Fast Eddie that your best chance of getting cured is Divayth Fyr, an ancient Telvanni Wizard who runs a Corprusarium for victims of the disease."
He turned and picked up some things from his dresser, and gave them to me. "Here." he said, "Take this Dwemer artifact and 1,000 drakes, and go to Tel Fyr. He'll like the Dwemer artifact. A gift may sweeten his disposition. The gold is for expenses, and you may need these levitation potions, just in case. They don't use stairs, you know."
I started to say that there was no known cure, but he wouldn't hear it. "Listen, Dragonmeal, get moving and get that stuff cured (and the other two you've caught as well). I need you to hurry back here because I think I know how to get the lost prophecies book that Nibani Macsa asked for."
"Wait," I said, "What is this Corprusarium?"
"The temple sends victims of corprus disease to the Corprusarium." he said. "It's located beneath Tel Fyr. Divayth Fyr makes sure they are well cared-for. I asked Fast Eddie what it was like, and he said it's a swell place, full of doomed crazy people with bloated bodies - you'll love it. You know Fast Eddie, don't you?"
"Yes," I said, "He's a month."
"You mean a 'mouth', a representative on the councel, don't you?" Caius asked.
"Uh, yes, 'mouth', that's what I meant." I said, trying to clear my head.
"Ok, now hurry." Caius said. "Mehra Milo says the Dissident Priests do have records of Ashlander Nerevarine prophecies, and she has an idea on how we might get a look at them."