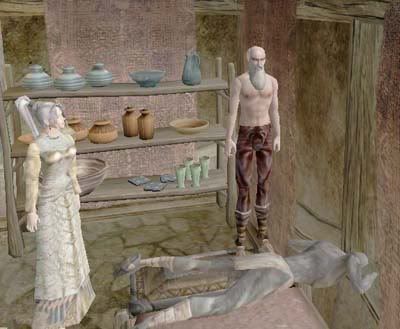 "Eldorf, what's the meaning of these attacks?" asked Laurenna.
"After what the wise woman told me," I replied, "and from what Dagoth Gares told me, I believe that the Sixth House considers me a direct threat to them."
Laurenna gave me a look of concern. "I'm not really sure what to make of these attacks, or where these creatures are coming from." I said, "But, I'll discuss this matter with Caius in the morning."
I turned to Laurenna and held her. "I think it might be safer if you were in either Tel Uvirith, the castle of Lokken, or even in Solstheim Castle. I don't know how these creatures get inside the house here, but with guards posted at every corner, any of those three places might be safer than Balmora at the moment."
"Oh, Eldorf," she replied, "I'm not the one in danger - it's YOU they're after."
I thought about it for a moment. She was right. The Sixth House had me for a target, and the ash-zombie that attacked us would have only gone after me, had Laurenna not been in the room. Still, I felt that I didn't want her to become a target, and that perhaps, we should make a bee-line for Lokken anyway. Still, I didn't think that Laurenna would agree, but I put the thought on her mind if things got too complex.