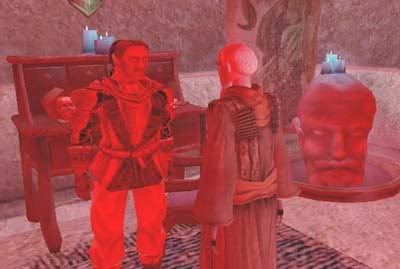 Books safely tucked away, I used the Blood Servant amulet to teleport back to the vampire's lair. He was extremely happy to get his books returned. He also said he was pleased that no one had to get killed over them.
"I am worried about something that has happened here recently." he said. "Remember that Armigar you killed in my phony lair? Well, the head of his group, Ulms Drathen, as become suspicious. I prefer not to kill someone of his stature, so we must rely on an alternate means of ending his threat to me."
"Exactly how to you interfere with the Armigers?" I asked.
He smiled, walked to his desk, and after fumbling through a few drawers, finally came away with a prized possession: an odd-looking flask, which he handed to me.
"We shall simply make him forget that he has any reason to suspect anything." he replied.
"Exactly how does one forget things like this?" I asked, "And what am I doing with this flask?"
"We will accomplish this with water from the Pool of Forgetfulness, which you will find just east of the Ghostgate, in a cavern named Sharapli. It's located just outside of the fence itself." he replied. "Take that flask, fill it from the pool, then go to the Armiger stronghold here in Molag Mar - look for Drathen. Near him will be a pitcher of water. Pour the water from the pool into the pitcher. When he drinks from it, he'll forget all recent events here."
Seemed easy enough.