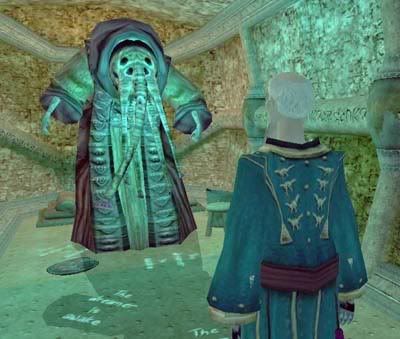 "Who is Dagoth Ur, and how does he know me?" I asked.
"He was your friend, once." replied Skarrin. "He would be again. As a friend, he once served you, Nerevar. Are you too proud to serve him as he did you? Go to him, and he will forgive your betrayal. You, too, can be transfigured by the Heart of Lorkhan."
Somehow, having a face full of tentacles didn't appeal to me.
"How long have you been held in this cell?" I asked.
"Months." came the reply. "It matters not. I am connected to House Dagoth, as are all the Ascended Sleepers. What one sees, all see. What one hears, all hear. What one knows, all know."
"What are these Sleepers?" I asked, trying to get a handle on the concept.
"The Sleepers are those of the blood of the Sixth House. It matters not how diluted it has become over the generations, Dagoth Ur's sendings will locate one who has any smallest fraction of the Sixth House blood in their ancestry."
That was a valuable piece of information. I did remember that according to writings on the Battle of Red Mountain, the Sixth House had been destroyed, and that surviving members of that house had been absorbed into other houses. Anyone descended from those original members would, naturally, be sensitive to anything related to the Sixth House.