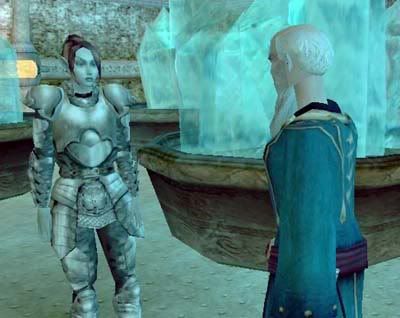 Romana was waiting for me the next morning, eager to give me my next assignment.
"Remember that Dwarven bone you recovered for our friendly vampire?" she asked. "Well, we've been chatting with it's spirit, and we've learned something remarkable. There appears to be a copy of the plans for Anumidium in Vvardenfell."
"Hmm," I replied, "the term sounds familiar, historical thing, right?"
"Very historical." she replied. "And dangerous. With a mere copy of Anumidium, Tiber Septim was able to forge an empire. Second Numidium was equally as far reaching in it's effects. The Order must have those plans. We cannot allow anyone else to possess them. According to the Dwemer spirit, they are kept in a small shrine in the depths of the Dwarven edifice of Mzahnch, located in the Bal Fell region. That will be located east of Vivic. Find and return these plans here."
Romana marked the location on a small map to give me an idea of where I was to go. I took my leave and headed straight back to our quarters in Sadrith Mora.