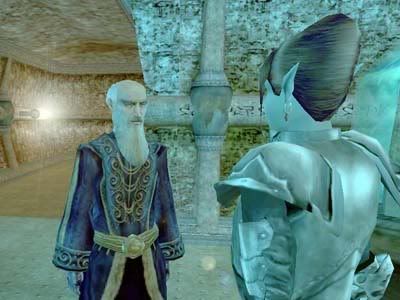 The next morning I headed off to see Romana and hand her the plans for Anumidium that we had recovered. Needless-to-say, she was somewhat overjoyed to retrieve it.
"Astounding!" she exclaimed. "I can hardly believe my eyes. How such a treasure such as this could have gone undiscovered all these years...and all thanks to that Dwarven bone you retrieved."
She gave me a promotion in the ranks of the order, then told me of my next mission.
It had to do with a letter of false rumors I had brought to M'aiq the Liar earlier. One of those rumors involved an island that rose from the ocean depths. It turns out that it was mostly true. The island did actually rise from the ocean several decades ago, and in a different location than rumor had stated, then sank again in short order. It seems it had reappeared, and this was something I would have to investigate.
"What is so important about this island?" I asked.
"Decades ago, an island surface from the ocean's depths." she replied. "It was covered with structures that appeared Daedric, but the angles, the geometry of the place, was, well, wrong. There is no other word for it. The Order's founder, a man called Imaginos, went to investigate. He never returned. Now, we grew worried, and sought news of him by magical means. What we learned was that he had been to the island, recovered an engraved tablet, and set off to the nearby Dreugh Colony of Imboca."
"Wait." I said, "Dreugh have colonies?"
"Yes," she replied, "and it will have to do with your investigation. You see, he died - that much we were able to confirm, but not the specifics of it. The island submerged itself beneath the waves soon afterwards and we thought we were done with it. That is why, when we assembled disinformation for M'aiq, it was included, although we did lie about it's location. The island is not actually north of Dagon Fel. It's actually north of Khuul and the Urshilaku Camp."
She made a small, rough map for me to show it's approximate location.
"The island that we thought we would never see again has resurfaced. We're dispatching you to investigate. Seek the island and the structure upon it, learn from it what you can. However, we also want you to seek out the fate of Imaginos. Return to us with his remains, with the tablet he carried away from the island, and if possible, his journal. You will most likely find all three within the wreck of his ship, the Plutonia, located just northwest of the island. If they're not there, however, you will need to scour the Dreugh colony for them."
"Good thing I have this Belt of Fishgills." I replied, "Seems like I'll be doing a lot of swimming."