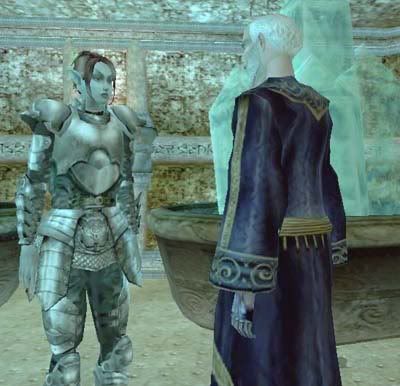 Once back on the shrine's island, I used the Servant to the Sea amulet and returned back to Romana Corvus.
"This is a remarkable job you've done." she said. "As a result of your actions, we will be able to use the skull of Imaginos to summon him back within our midst. That alone would be a tremendous accomplishment. But more important, we will be able to asking him about the wards he set on that island's portal."
"I should mention," I said, "that he apparently felt the wards should not be interfered with. They seem to be there for a very important reason."
"Yes." she replied, "We will respect his wishes and not interfere with them, and in fact will set a watch upon them to insure that no one else does, either. We suspect that, as in the past, the island will re-submerge within a relatively short span of time."
"The tablet is odd." I said, showing it to her. "I have never seen writing like this before."
"Yes, it is odd." she replied. "However, we do have someone in the Order who is very adept with languages, so there is some hope of eventually translating it. In the meantime, allow me to grant you a very deserved promotion within our ranks. Oh, and you are being transferred on again, but this time, you'll be working with the head of our Order, Selrach Otived."
"I've never heard of him." I said.
"I doubt you would have." she replied. "Selrach has been the head of the Illuminated Order for a few decades now. He's under a 'kill-on-sight' decree from the Temple, as well as House Indoril, so he rarely ventures outside of his based called Fionnovar. You'll need to go there to receive your orders from him."
"What kind of place is it?" I asked.
"Fionnovar? Well, it's something yo have to see for yourself." she replied. You'll have to travel to the settlement of Khuul. Look for the shack of Miron Garer - he's usually inside, and he's one of us. Use the code 'Much is lost, but much abides' and he'll arrange things from there."