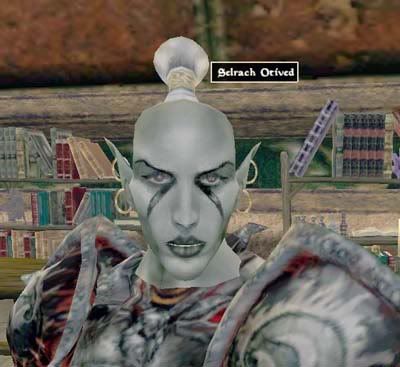 "A lich?" I asked. "Interesting."
"Isn't it?" he replied. "You see, after much effort, we have located the lich, Drynne. He's to be found in the depths of the Arys Ancestral tomb, on an island due west of Tel Branora. His lair is protected by some sort of fear spell."
He walked to his desk, pushed a few things aside, ruffled through some of the papers, and came back with a small object, handing it to me.
"Take this wardstone." he said. "It should allow you entrance past his wards. Your objective is to confront Drynne in his lair, for the purpose of learning what you can from him about becoming a lich."
He went back to straighten out the mess he had made on his desk in his search for the wardstone, then continued. "If you need anything to prepare for your mission, seek out your fellow members of the order here in Fionnovar. The three sisters in the west wing can provide you with supplies, and I'm certain the rest of our number here will be willing to offer training in any skills you might find useful. Eats Crow will return you to Khuul when you are ready."
He came up nice and close to me, glaring into my eyes. "Be warned, Eldorf Dragonmeal - Drynne is ancient and powerful; should you have to engage him in combat, you'll find him to be an extremely powerful opponent."
"Let us hope it does not come to that." I replied. "He sounds like a very interesting fellow."
"I know of your exploits." he replied. "I know of the dragons you have slain, but this is no dragon. He is much more dangerous. Take care in how you approach him."