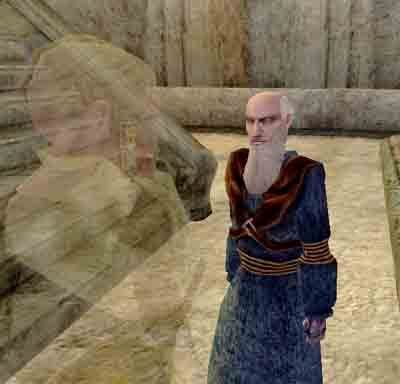 "I was born in what was the 1804th year of our calendar's reckoning, in an island empire known as England. My fortunes led me abroad, across a sea, to another land, called the Americas. I became a pirate, a career that lasted for but a few years before my luck ran out. My ship was lost and I was left to die by two good friends, on a beach of one of the islands in the region. Starving, dehydrated, with no resources, and no reserves, I thought death was imminent. It should have been.
Instead, the natives of the island - a curious tribe of degenerate men - rescued me. I made a bargain with them; in exchange for my life, I would serve those whom they served. Their religion was based around what they called 'The Invisibles'; other-worldly spirits who themselves performed as servitors for more powerful spiritual entities. I later learned that those the Invisibles served were those who have come to be called, here on this world, Those Who Dwell Outside.
For nearly seventy years, I served the Invisibles on my world. The details of that service are largely unimportant now, but after my last, great task was complete - the planting of a black mirror, like an evil seed in the psychic fundament of England in 1893, which would forment chaos throughout the region for decades to come - I sailed away from England once again. My intention was to return to the ruins of a castle at Weisseria belonging to one of the others who served the Invisibles.
I never made it. Storms on the land and storms at sea ravaged England between 1892 and 1893. Once such storm claimed my ship. I expected to die. Instead, I woke clinging to the flotsam of my ship as I drifted up to the dock at Castle Ebonheart. Shortly afterwards, I founded the Order of the Invisibles, intent on serving my old masters once again. But after years of searching, I discovered they were unknown on this world - and even Those Who Dwell Outside were known but barely.
Most members of the Order believe it is named after our penchant for extreme secrecy; are we not, after all, nearly invisible to the populous of Vvardenfell? Only Selrach Otived - and now you - know that we are actually named for the forgotten service of a group of spirits who do not even exist in this world.
Well, you have your curiosity sated for now. Enough about the past. I understand you are currently about to seek out the lich, Semutra. It may interest you to know that, in my life, I knew her, and had dealings with her more than once. Before she became a lich, she was a noble, you know, of the court of Mournhold. She was also a powerful enchantress, and there were even rumors, for a time, that she was the lover of Sotha Sil, the God King."
I had heard of the name, Sotha Sil, before. He was one of the original members of the Tribunal.
Imaginos provided me with a key to Semuta's tower, along with a warning that Semuta was very powerful, and that, if possible, I should avoid a confrontation with her.